Quite when the first church was built here is not known for certain and it may be that a wooden structure was first established close by a fording point on the Emele Stream, as the River Mole was known at that time. This may, in its turn, have been superseded by a stone building and it is probable that a slight mound was constructed to raise the structure above the frequently tested flood level. It is possible that this church was one of two churches in the manor of Sutton which are mentioned in the Domesday survey of 1086.
It is certain that a church at Horley was established by 1150 -1180, although whether this was a wooden or stone structure is not known. In 1565 the name of the church was changed to St Bartholomew's.
Major work on the strengthening of the spire in 1970 was achieved by building a steel structure inside it and re hanging the bells so that this structure, rather than the wooden one, took the weight of the bells. When the work was completed it was found that certain adjustments were needed and it was not until 1972 that the bells could again be rung with confidence.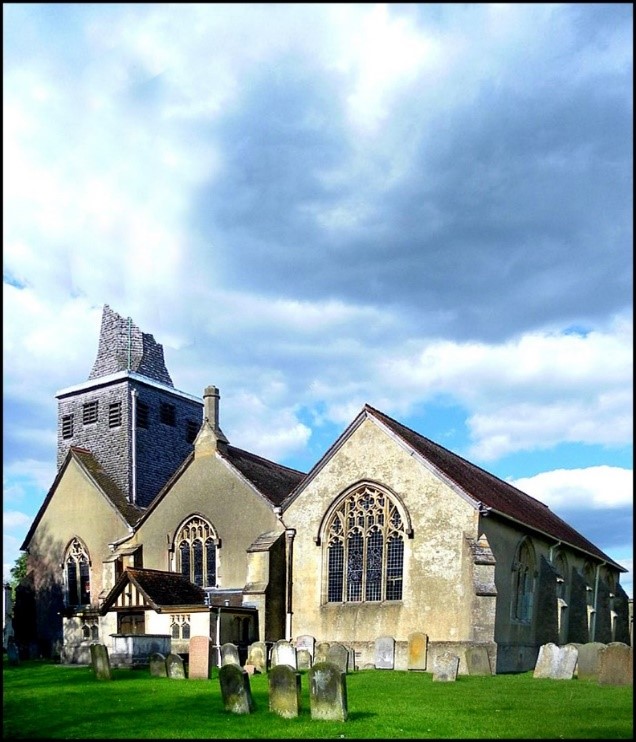 It is clear that St Bart's has been central to life in Horley since the 11th century and, provided that the structure of the building can be maintained, can be expected to be so for many years to come
Currently, the wooden shingle tiles of the tower and spire are in a poor condition, particularly on the south and west sides which take the full force of the sun. Currently fund raising is taking place to repair the roof and spire at a cost of £500,000. Obviously, it is no longer possible for the parishioners to shoulder the whole of the costs and the Church Wardens are dependent on the generosity of Grantees to provide assistance. The church will be applying to the Heritage Lottery for a grant and hopefully, with a lot of support, it may get it repaired in the near future. If not, St Bart's could look like this photo.
Click here if you would like to contribute towards the repairs.
SOS - HELP US SAVE OUR SPIRE
Work will soon begin on restoring the spire, tower and roof of St Bartholomew's Church. Replacing each oak shingle costs £25 but you can support us by donating at least £10.00 to dedicate a shingle in memory of a loved one or to commemorate or celebrate a special occasion. Dedications will be recorded in a book in the church and you will become part of the history of Horley. To sponsor a shingle, click here.