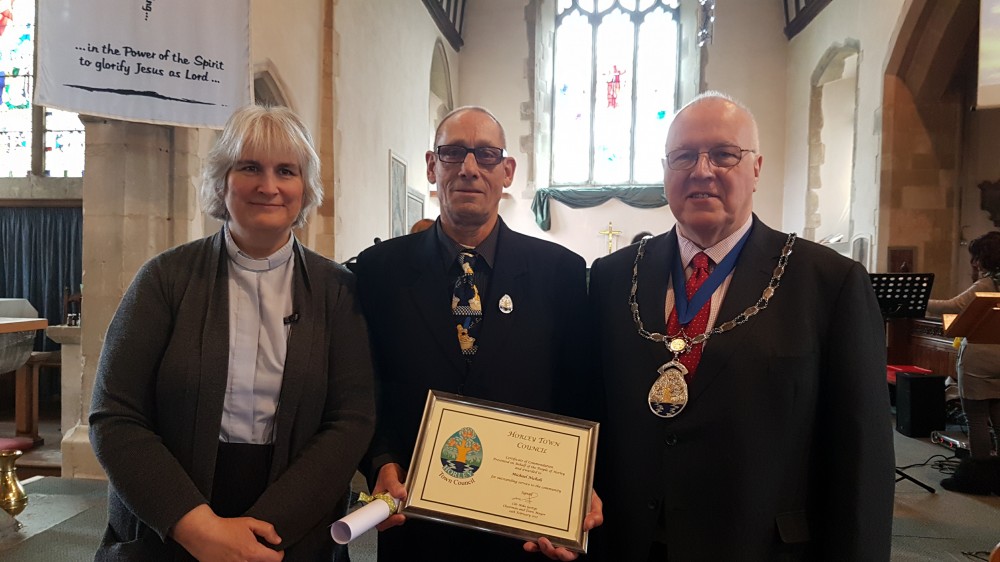 A member of St Bart's, Michael Nichols was presented the Town Award for his years of service clearing up litter from the town's two graveyards.
Horley Town Mayor Cllr Mike George presented him with the award as part of the service at St Bartholomew's Church on Sunday 19th February.
Bart's nominated him for his work in the churchyard as well as in the nearby cemetery in Church Road.
Churchwarden Ann Golding said: "For years Michael has single-handedly kept both our churchyards free from rubbish, daily going around with his litter picker and black sack making the environment look both clean and tidy. His contribution is invaluable. He picks up cans, bottles and he's even been known to clean up dog mess."
Former Horley Team curate Rev Kate Capper, who continues to be a confidante for Michael after leaving the parish, returned to St Bart's for the special service. He was a regular attendee of the church's Job Club, then a weekly activity.
She said: "I've known Michael since 2010 when he came along to help us with cleaning up the churchyard. He enjoyed it so much he said 'can I keep doing this if you get me a picker and some black sacks'. I did, but wondered 'how long will this last' and here we are today."
On receiving his award Michael said: "I'm very honoured to do the community work for St Bart's Churchyard. I love doing it. People come and talk to me. Some of them even know my name now."
The nomination to the council described how he now offers his time helping cut the grass, decorating the church for Christmas and doing essential work to upkeep the Grade 1 Listed building.